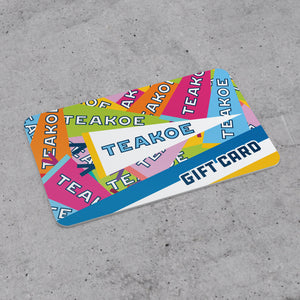 TEAKOE Gifts cards are the best gift for family for friends that love tea!

Gifting Instructions:
In order to send a TEAKOE digital gift card to your family member or friend:
1. Purchase the gift card from Teakoe.com
2. A digital gift card will be emailed to you
3. You can email the digital gift card (with code) to your friend or you may print it out and snail mail it with your own personalization!

That's it!

*Please note these gift cards are redeemable for teakoe.com purchases only.  
Mix-n-Match any product to stock up and take advantage of bulk savings!